CTM 3600PA Series Printer Applicator
The 3600PA Printer Applicator is a rugged and versatile, high speed, thermal transfer labeler used to print and apply pressure sensitive labels to various products. A Sato or Zebra print engine is integrated into an applicator to form a self-contained unit to print variable data.
Assembled with right or left hand Sato and Zebra printer modules, the unit can be mounted in various positions to apply labels to the tops, sides or bottoms of a multitude of products with its proven tamp-blow application.
ID Tech Model 252 Printer Applicator
In developing the new Model 252 label printer applicator, the specialists at ID Technology took a deeper look into the needs of their customers and made some discoveries that led to an entirely new approach to their design process.
This Centerline-Modularity™ approach is defined as "the process of removing as many adjustment points from a machine as possible, coupled with hot-swap modules for quick- fault diagnosis and repair, leading to greater uptime and lower running cost."
VideoJet 9550 with Intelligent Motion™ Technology
The 9550's breakthrough design eliminates mechanical adjustments, wear parts and failure points that cause everyday operational problems. Using Intelligent Motion™ technology, the entire machine is automatically and precisely controlled. In addition, the 9550 applies the label directly onto the pack without the need for an applicator.
Intelligent Motion™ technology reduces the top 5 causes of downtime, improving end-of-line efficiencies. By eliminating more than 80% of wear parts, there is no need for constant ongoing maintenance.
Apply Only Labeling
CTM 360a Series Labeler
The 360a Series Label Applicator evolved from the industry standard 360 Series Platform. The 360a can be configured as a merge, blow-on or tamp-blow applicator, 5", 7.5" or 10" widths and each module can also be easily switched to the opposite hand with few or no change parts in a minimum amount of time. All units are stepper motor driven to include State-of-the-art electronics and a "Self-teaching" label sensor. File encryption of the 360a allows for easy "on-site" software revisions and upgrades.
ID Tech ST 1000 Labeler
ID Tech ST 1000The ID Technology Model ST1000 is a full featured label applicator with variable speed motor that achieves speeds up to 1,000 inches of label web per minute. Like other ID Technology engineered equipment, the Model ST1000 has a modular, simple, user friendly design that sets this applicator above the competition. Available as a wipe-on or tamp applicator, it's ideal for the application of a wide assortment of sizes and shapes of pressure sensitive labels to the top, bottom or side of a product.
EPI-9230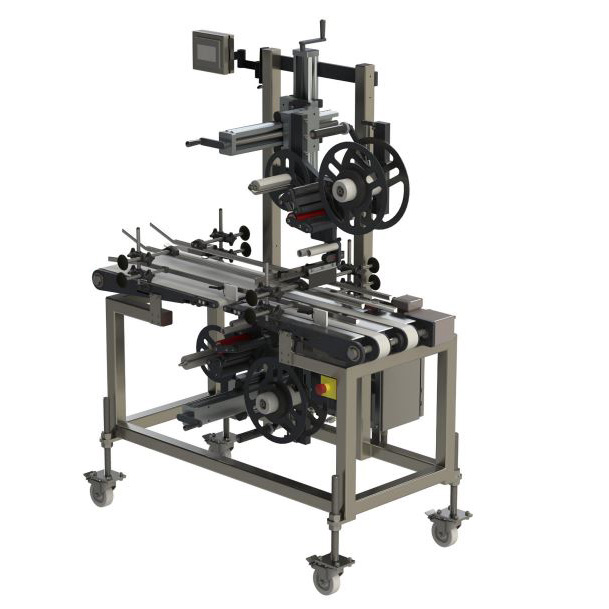 This hybrid labeling system is a combination of ID Technology's Top/Bottom System and C-Wrap System that integrates right into your specific packaging process. EPI-9230 comes with a full belt infeed conveyor and a split belt outfeed conveyor. It uses two of the proven M-Series labeling heads to dispense the labels. Labels can be applied around the top, front and bottom of a clamshell container or the top and/or bottom of the packaging.