Small Character Coding
JET1
Leibinger's continuous inkjet technology has long been considered the most flexible, versatile and economical way to mark products. As the CIJ print head does not come into contact with the surface of the product, it offers unlimited opportunity to code virtually in any environment, on any substrate and on any product, even from any direction.
With the JET One, CIJ makes total sense for even more applications. Why? Because the JET One offers you everything Leibinger stands for: the best product quality at an attractive price and the highest level of reliability. It offers you all the features you need to run your production more efficiently than ever.
JET2Neo
The LEIBINGER JET2neo continuous inkjet printer is the ideal marking solution for all standard applications.
Print up to 3 lines with high precision in various fonts and languages
Fixed and variable data, such as text, barcodes, expiration dates, lot/batch numbers, 2-D codes, shift codes, graphics, etc.
Bold, powerful imprint with various colored inks.
JET3Up
The JET3up can be used anywhere. Text, barcodes, LOT / batch numbers, 2D codes, expiration dates, counters, graphics and much more – the JET3up can be used in any industry and for any marking application
JET3Up PI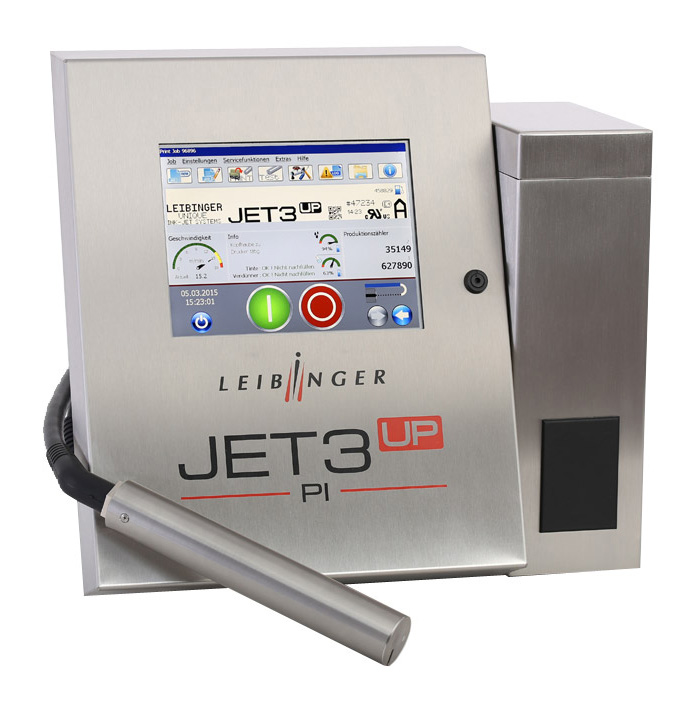 The JET3up PI Inkjet printer is the reliable solution for printing with pigmented inks. There are over 800 functions standard in the JET3up PI able to handle a wide variety of applications. You can always find the best solution for yours!
JET3Up PRO
The JET3up PRO Inkjet Printer is the reliable solution for rough production environments. Various product surfaces do not pose a challenge for the LEIBINGER inkjet printer, regardless of whether they are convex, concave, rough, smooth, flat or structured. Noncontact marking and fast product processing make CIJ technology the most flexible, versatile and cost-effective method of marking products.
Videojet 1550 & 1650
The practical world, where codes need to be right every day, every time. A world where uptime and continuous improvement are directly reflected in your metrics. Where the goal is to shrink downtime and expand true availability. And where maintenance is a predictable, preventive routine. That's what Videojet 1550 and 1650 printers are all about.
Videojet 1620 UHS
In your production environment, the demands for higher line speed never relent. In the past, printer limitations have required balancing throughput targets while ensuring consistent quality, accuracy, and legibility.
Today, the challenge has been further increased through supply chain, marketing, and regulatory requirements – all requiring more code content without sacrificing the legibility needed to inform your customers and meet your traceability objectives.
EBS-6500 Series
Continuous Ink-Jet Printer EBS-6100 SEThe EBS 6500 Series is an entirely new and improved small-character ink-jet system designed for exacting in-line product and package coding. It starts with an all-new cabinet configuration that includes a ventilation process incorporating moisture traps, filters and a chemical-resistant keypad that will protect the unit in even the harshest environment.
The EBS 6500 Series also integrates a touch-screen display for easy message creation and operational control. The result is an innovative ink-jet system that prints startlingly crisp, multi-lingual alphanumeric text and bar codes that provide error-free product identification.
Citronix
The ciSeries range of printers are designed to meet some of the most demanding coding and marking applications across industries such as food and beverage, extrusion, cable and wire, cosmetics, pharmaceutical and health care, electronic components, automotive, construction and other industrial sectors.
Citronix's range of printers apply identifying marks such as best before dates, traceability codes, logos and batch codes at very high speeds to almost any kind of material or surface whether plastic, metal, paper, wood, glass or other substrate type. ciSeries printers are reknowned globally for their Simplicity, Reliability, Capability and Excellent Value.